Credit Clean Up
Understanding Your Credit Score
AS YOU MIGHT EXPECT, PAYMENT HISTORY IS THE MOST INFLUENTIAL COMPONENT IN YOUR CREDIT SCORE, FOLLOWED CLOSELY BY THE AMOUNTS YOU OWE. TO LESSER DEGREES, THE LENGTH OF TIME YOU'VE UTILIZED CREDIT, THE NUMBER OF NEW ACCOUNTS OR INQUIRIES YOU HAVE, AND THE VARIOUS TYPES OF CREDIT ACCOUNTS YOU HOLD ALSO IMPACT YOUR SCORE. OVERALL REPORTING ALSO LOOKS AT HOW THESE FACTORS RELATE TO EACH OTHER IN THE CONTEXT OF YOUR PERSONAL USAGE.
Credit Cleanup
Your Credit Score is determined by 5 factors of differing importance:
35% Payment History
How often do you pay your accounts on time?
Late payments may lead to a lower score.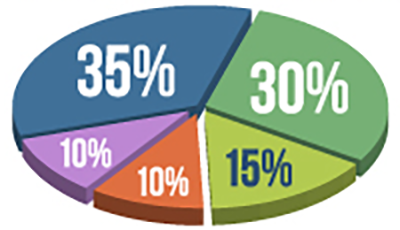 30% Amounts Owed
How much of your total credit have you used
Less is more! Lowering debt can be the key to a better credit score.
10% New Credit
Have you opened any new credit lines lately?
Opening several accounts in a short time can lower your credit score.
10% Types of Credit Used
Do you have more than one credit line?
Having experience with different types of credit (e.g., car loan and a credit card) can help your score.
15% Length of History
How long have you had credit history?
A longer history of responsible credit use will likely lead to a higher score.